Santa Clara 2 Indoor / Outdoor Wireless Bluetooth Stereo Speaker
AWSEE320
MSRP: $149.99

Enjoy music wirelessly from your smartphone or tablet with Bluetooth®

Massive 20 Watt sound system includes a mid-range driver, tweeter and bass resonator

Pairs to another Santa Clara unit for true stereo sound

Multiple LED light modes: area lighting, breath and beat party modes react to music playing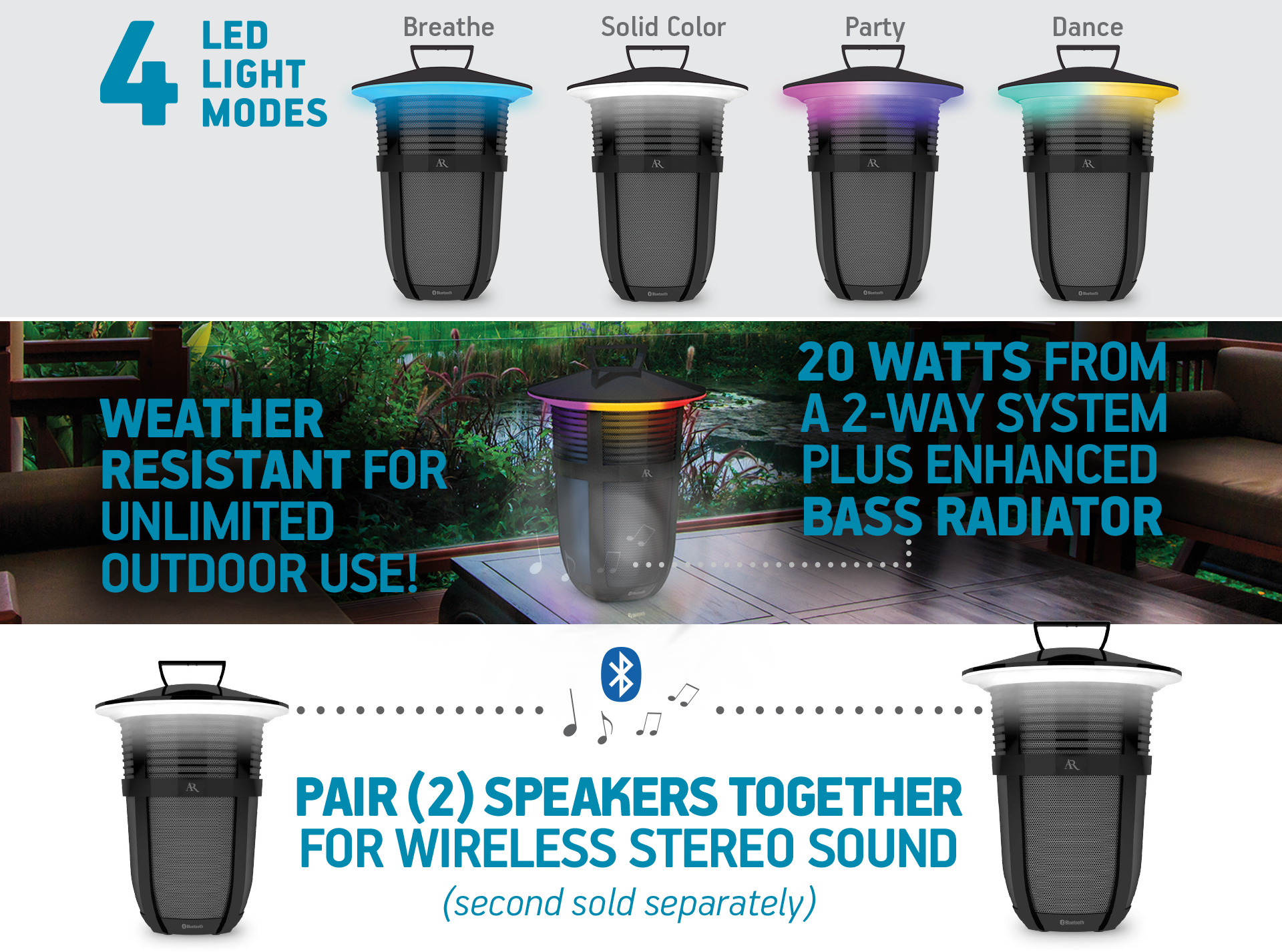 Acoustic Research continues its legacy of innovative design with the Santa Clara 2 Wireless Speaker. The timeless and distinctive architecture of Santa Clara 2 packs big power in a compact design to blend seamlessly into indoor and outdoor settings year round. Inspired by hues in the Northern Lights, the Santa Clara 2 features multi-color or white area lighting with "Breath" or "Beat" modes to set the mood. Equipped with a mid-range driver, tweeter and bass resonator, the Santa Clara 2 packs a big 2-way 20-watt punch in an aesthetically pleasing form factor. Part of Acoustic Research's Premier Series of indoor/outdoor wireless speakers, the Santa Clara 2 offers Bluetooth® wireless connectivity to smartphones, laptops, or tablets, as well as 3.5mm aux-in functionality for a direct connection to your music source. For double the power, Santa Clara 2 can automatically connect two speakers via Bluetooth. The Santa Clara 2 runs on a built-in rechargeable battery for up to 14 hours of wireless experience. There is no need to worry how the Santa Clara 2 can stand up to the elements - the casing is IPX weather resistant, so rain won't stop this party.
Available at Costco.com
Weather resistant design for indoor and outdoor use
Plays up to 14 hours with built-in rechargeable battery
Speaker - 14.6" H x 10.5" W x 10.5" D
Speaker
AC power adapter
Aux-in cable
User manual
CUSTOMER REVIEWS
AR Santa Clara!
by
Johnny T
, on
2018-Jul-05
I bought 2 speakers (both playing in stereo mode) for my 4th of July BBQ. Started playing them 10 1/2 hours ago and they are STILL playing! Incredible... Paid $100 each and they are well worth it. Simple speakers just for around the house or yard but have great sound and worth the $.